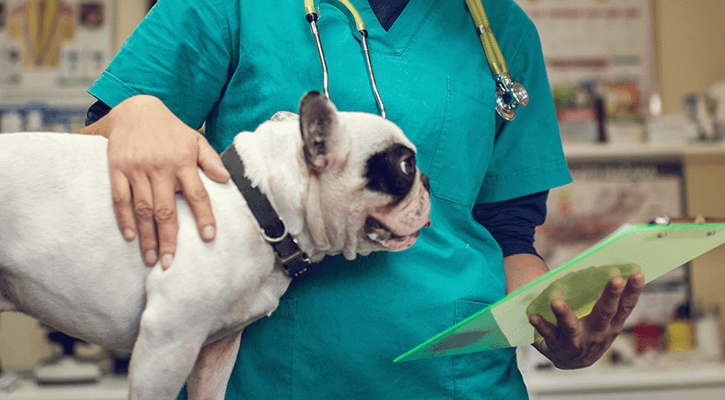 Veterinary X-rays
X-rays—also known as radiographs—are very useful to identify and diagnose many medical conditions. Using this technology, the veterinarians at Pennfield Animal Hospital can virtually look into your pet's lungs, heart, abdomen, oral cavity, bladder, kidneys, and other areas. It is one of the primary means that we have to diagnose fractures, heart and lung problems, intestinal obstructions, localize infections, identify arthritis and many other orthopedic conditions.
We are also able to submit radiographs of hips and elbows for rating by the Orthopedic Foundation for Animals.
Ultrasound Imaging
Ultrasound technology is another non-invasive and pain-free technique to image your pet's internal organs. It uses sound waves to produce a real-time image and has certain advantages over x-rays.
It is particularly useful in looking at the structure of your pet's abdominal organs such as the spleen, kidneys, liver, and gallbladder. It can also be used to evaluate heart functions and to look for bladder stones and tumors. Ultrasounds are typically not stressful for your pet and take about 30 to minutes to perform.
Our Laboratory
When your pet is sick and it is important to discover what is wrong as quickly as possible, one of the most important tools that we have is the ability to analyze how well your pet's internal organs are functioning. For example, is a severely ill dog in diabetic ketoacidosis or acute renal (kidney) failure?
Pennfield Animal Hospital's in-house laboratory testing allows your veterinarian to gain a view of how your pet's body is functioning in order to assess overall systemic health without the need for invasive and expensive procedures. Our chemistry analyzer and CBC machine tests your pet's blood for these problems and gives us answers within minutes so that we can begin treatment as quickly as possible.
We can also do routine senior wellness tests through our reference lab when time is not of the essence and is more cost-effective for regular screening tests.
We also perform testing prior to procedures that require anesthesia so that we can better assess the risk of the procedure.
Electrocardiography (EKG)
Electrocardiographs (EKG) are snapshots of how your pet's heart functions. These are helpful in detecting arrhythmias and can help us better characterize other types of heart disease.
We have an exam room screening device that is quick and easy to screen for common arrhythmias. If we have need of a more complete study, we can perform one in our treatment area and send it electronically to have a board-certified cardiologist evaluate it and recommend specific treatments.
Internal Medicine
In addition to our regular in-house blood testing, we partner with the national veterinary laboratory, Antech, and the Diagnostic Laboratory at Michigan State University to help our doctors confirm and identify endocrine and metabolic diseases such as Addison's Disease, Cushing's Disease, immune-mediated diseases, etc. In addition, we can test pets for specific allergies with a simple blood test.