COVID-19 Update
August 6, 2020
This has been a difficult time for everyone, and we want to express our gratitude for your patience and understanding as we work within sometimes less-than-convenient restrictions.
Here are the most recent updates to our procedures:
Safety: We are continuing to follow CDC guidelines for social distancing, and we have sanitation and cleanliness procedures in place to keep everyone safe.
Drop-off Exams are now available: This convenient service lets you drop off your pet for us to board for the day. We'll perform the exam, and you can pick up your pet later in the day. A small additional charge will apply.
New Hours: Monday, Wednesday, Friday 8:00 am – 5:00 pm
Tuesday 8:00 am – 6:00 pm
Thursday 8:00 am – 6:00 pm
We will be open select Saturdays – 9:00 to 12:00
New clients: Unfortunately, the hospital cannot accommodate same day or next day sick appointments for non-existing clients at this time.
Kindness: Just a reminder that we are all under stress these days, and a little kindness helps everyone's day go better. Please be patient and treat our staff with the respect they so richly deserve.
Thank you for your understanding and compassion and for continuing to ensure your pet's healthcare with us.

How to Prepare for your Visit
May 13, 2020
Our appointment process has been updated as current pandemic guidelines for the State of Michigan have changed. Here is what to expect at your next visit to our office. If you have any questions, please call us at (269)964-0966.
Scheduling your visit… If you are experiencing any symptoms or have been exposed to anyone with the COVID virus, we would ask that you reschedule your visit.
Bring your cell phone with you… When you arrive, please call to let us know you are here and we will let you know what to do next.
You can choose to be present during your pets' exam… If you wish to accompany your pet for the visit, please wear a mask while interacting with our staff.
Exam Room Limitations… We ask that only one owner accompanies pet during the exam due to the small size of the exam rooms.
Curbside service is still available for those that wish to remain outside. We will also continue to offer outdoor appointments as weather permits and with Doctor discretion.
Please bring your patience with you… We try our best to schedule accordingly and keep on track but we cannot always predict events that may cause appointments to take longer than expected.
Thank you for entrusting your pet's care with us!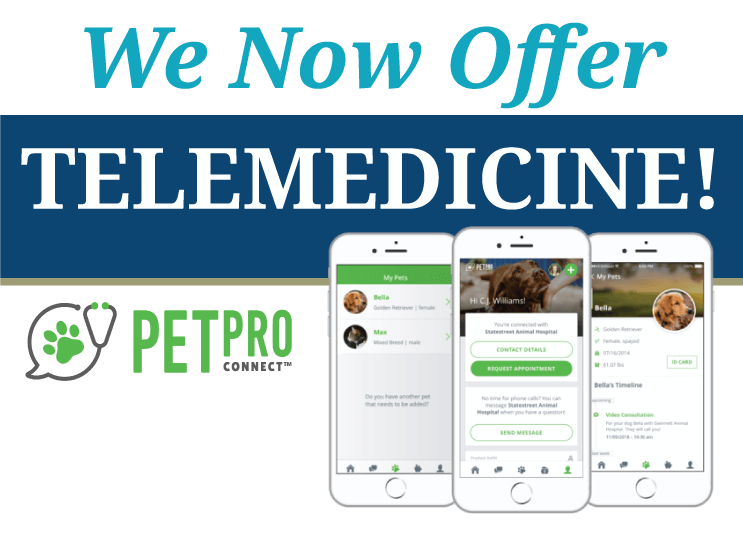 We Now Offer Telemedicine!
April 23, 2020
To ensure our patients continue to get the best veterinary care possible while practicing social distancing, we will begin offering telemedicine to our clients through the PetPro Connect app.
PetPro Connect is very easy to use and access. To make a telemedicine appointment:
Call the hospital for a telemedicine visit and share your email address. The hospital will add that into your client profile.
Within 48 hours you should receive an email with a code/link to download the app.
From there you can schedule the appointment. 
While telemedicine isn't suitable for emergency and urgent cases, it is great for getting fast and reliable answers for more routine veterinary care and follow-ups.
You can read more about our telemedicine service here, or just give us a call at (269) 964-0966 with any questions you have.

We're Taking Steps to Protect You, Your Pets & Our Staff
March 20, 2020
We understand that this is an anxious time for many, but we wanted to assure you that Pennfield Animal Hospital is doing everything we can to accommodate our patients and their human companions, while also taking strong steps to ensure the safety of everyone involved.
It's become clear that we all have to make sacrifices. As our nation is being challenged by the COVID-19 virus, our focus will be to keep our staff, our clients and their pets safe and healthy. 
That means changing the way we conduct our business. Here is a brief rundown of those changes and what we're asking of you so that we can remain open for you and your pets during this crucial time:
· If you are sick, please do not bring your pet in. (If your pet is sick, however, please call us to discuss options for getting medical attention for your pet.)
Our lobby is currently closed.
We are limited to essential services during this time.  Unfortunately, we cannot perform some routine procedures like nail trims, dental cleanings, or surgeries such as spay, neuter or declaw services. 
All prescriptions and food orders must be called ahead of time or from your car. Payment will be processed by phone and the items will be waiting for you in our entry area.
All appointments will be handled curbside. When you arrive at our hospital, please call 269-964-0966 and check-in for your appointment. A staff member will come to get your pet when your veterinarian is ready.
We will be in contact by phone to discuss the details of the exam and also to take payment for services.
Upon completion of the visit, all receipts and medications will be brought to your vehicle, along with your pet.
Thank you for your patience and cooperation! Don't hesitate to call us if you have any questions or concerns.